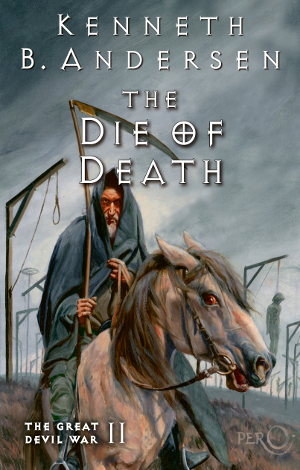 "A clever series continues in a novel that despite its grim setting is often sweet."
"Yet again, this is a dark and humorous read. I would love to see this on the screen as the world building is excellent. This series continue to grow and grow."
"I've said it many times before, but I'll say it again. I cannot recommend this series enough." *****
"It is so unique and I am in love! I can't wait to see what happens next and I highly recommend it to you!" *****
"I can't go on enough about this series. Being back with these fabolous characters has been refreshing. I urge teens and adults to read this series." *****
"Such vivid descriptions and real life characters that it makes you forget you're reading a book." *****
"The world, the mythology and the cast of characters blew me away again." *****
"This series would make a great movie." *****
"I fell in love with this series after reading the first book, and the second book continues my love of Philip's story and the many layers contained within." *****
"The Die of Death brings back beloved characters, some loathsome ones and delves deeper into the Underworld realm which is comprised of more than Hell. The world-building is as vivid as it was in the Devil's Apprentice." *****
"I love the world building in this series. I love the way you get to explore more of this world with characters that are so likeable. Great writing, and the story really flows." *****
"Fast-paced, unique, humorous, scary...this book has it all. Highly recommended!" *****
"I really enjoyed every single page of this book. Kudo's, Kenneth, you've created quite the world, here in Hell." *****
"I really enjoyed this book ... This is a book for young adults and adults, especially those who enjoy dark adventures and fantasy with paranormal elements included. The book is well-written, has great characters, and it succeeds in building up the world of the series and in increasing its complexity." *****
"A dark Harry Potter? Cohesive, insightful, and full of really smart mythology. READ IT!" ****½
"Philip is a great protagonist to follow. He's incredibly likeable, and you really root for him throughout the story. There's never a dull moment in The Die of Death. The plot is gripping from start to finish, with more intrigue added as we go.  ****½
"Wow. The veins of imagery and creativity marble throughout the pages and vividly create and delineate the world of Hell." ****½
"I LOVE how K.B. Andersen every time, through his splendid way of storytelling, ingeniously gives a significant message out to the readers." ****½
"Wow. The veins of imagery and creativity marble throughout the pages and vividly create and delineate the world of Hell." ****½
"Very imaginative. Kenneth does an amazing job with describing everything so that I was able to picture what it would be like." ****½
"Reading this book made me realize that I didn't just love it, this series might actually be one of my favorites!" ****½
"An engrossing read for teens and adults! " ****½
"The smashing sequel to the already perfect The Devil's Apprentice." ****
"Weaves together fun and mischief, as well as serious topics about life. This series is a must read!" ****
"The world, the mythology and the cast of characters blew me away again." ****
"If you're looking for a unique take on the afterlife, with a heavy dose of mayhem thrown in, I'd highly recommend giving this series a try." ****
"A fun, fun series to read. Excellent writing, excellent world building." ****
"What The Devil's Apprentice did well, this continues to do in the same vein. A return to Hell makes for plenty of fun, blood-curdling moments but the exploration of both the domain of Death and of Purgatory made for welcome additions to the tapestry of the underworld." ****
"I'm continually impressed with the way Andersen has constructed this world ... This series is so much fun! It's lighthearted with genuinely likable characters." ****
"Kenneth B. Andersen seems to have mastered the pacing of the books in the series, knowing exactly when to press on the gas, and when to ease up just a little bit." ****
"A fantastic story, and a brilliant sequel, it was fun, entertaining and full of twists and turns to keep you intrigued." ****
"An enjoyable read and a refreshing return to a fun series." ****
"A delight to read and the pages just go by like a breeze. A gripping and amazing fantasy. There is depth and life in the characters." ****
"I often find the sequels rarely live up to the original. I need not have worried though. Andersen has done it again with this. " ****
"A fun, engaging, and fast paced read!" ****
"Philip is a smart cookie and a wonderful character and side characters aren't too shabby either. The mystery isn't easy to solve and there's drama, humor, and danger along the way." ****
"The wonderful biting humor and satire are what make this book and series such a joy to sink yourself into."
"If you enjoy stories like Good Omens then I highly recommend you check this series out!"
"I absolutely adored the first in series and this second instalment made me fall for the series even more."
"This is such a fun read, it has everything. There's menace, fear, the macabre and humour all in a marvellously dark world. I loved it."
"A great second book in an intriguing and completely fresh series."
"The Great Devil War series is lighthearted and fun but does open up a lot of moral and ethical thought experiments for young adults to discuss and mull over."
"Brilliantly funny and thoroughly enjoyable. While this one is certainly aimed at the teen market it is definitely one that can be enjoyed by adults too."
"The creativity of the author shines through every page."
"Once you start reading, you do NOT want to stop. There is something about Philip's character that just resounds with everyone, and he is a very relatable character.."
"The story does again make you ponder just were the lines are drawn with right and wrong and the balance of life and death."
"Sometimes, the second book of a series is not as strong as the first. This is simply not true with The Die of Death."
"Excellent. Great pacing and some interesting thought-provoking moments."