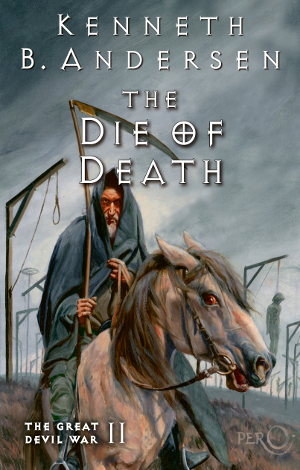 "A clever series continues in a novel that despite its grim setting is often sweet."
"Yet again, this is a dark and humorous read. I would love to see this on the screen as the world building is excellent. This series continue to grow and grow."
"I've said it many times before, but I'll say it again. I cannot recommend this series enough." *****
"It is so unique and I am in love! I can't wait to see what happens next and I highly recommend it to you!" *****
"I can't go on enough about this series. Being back with these fabolous characters has been refreshing. I urge teens and adults to read this series." *****
"Such vivid descriptions and real life characters that it makes you forget you're reading a book." *****
"This series would make a great movie." *****
"Fast-paced, unique, humorous, scary...this book has it all. Highly recommended!" *****
"I really enjoyed every single page of this book. Kudo's, Kenneth, you've created quite the world, here in Hell." *****
"I really enjoyed this book ... This is a book for young adults and adults, especially those who enjoy dark adventures and fantasy with paranormal elements included. The book is well-written, has great characters, and it succeeds in building up the world of the series and in increasing its complexity." *****
"A dark Harry Potter? Cohesive, insightful, and full of really smart mythology. READ IT!" ****½
"Wow. The veins of imagery and creativity marble throughout the pages and vividly create and delineate the world of Hell." ****½
"Very imaginative. Kenneth does an amazing job with describing everything so that I was able to picture what it would be like." ****½
"Reading this book made me realize that I didn't just love it, this series might actually be one of my favorites!" ****½
"The plotline was fast-paced, but it wasn't so fast that I had issues follwing it. The author knew when to slow down enough for critical scenes to be absorbed. I loved it!!" ****
"If you're looking for a unique take on the afterlife, with a heavy dose of mayhem thrown in, I'd highly recommend giving this series a try." ****
"A fun, fun series to read. Excellent writing, excellent world building." ****
"Excellent. Great pacing and som interesting thought-provoking moments."