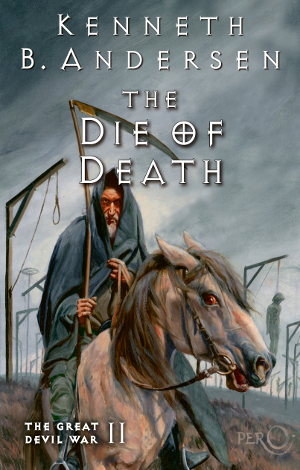 "This is a disaster," the old man moaned. He began pacing the floor, shaking his head despairingly. "Without my die, every newborn child will be immortal. The consequences will be horrific! And those poor people—they won't have death to look forward to."
"Death isn't exactly something people look forward to, is it?" objected Philip cautiously.
Mortimer paused, staring at him. "Yes, it is," he said in a voice verging on a snarl. "They just don't know it."
"I don't get it."
"And Lucifer said you were such a bright boy. But of course he's also the father of lies." Death moved to the window. He looked out at the evening darkness as it sank swiftly across the bleak countryside. "There are many who would say the same thing, Philip. That death is something terrible, a necessary evil best avoided."
"Isn't it?"
"No!" shouted Mortimer, startling Philip and Satina. His old eyes sparkled. "I'm humanity's greatest fear because there's no greater fear than that of death. But that's not the way it should be! The truth is, people don't realize just how much they should appreciate me. Death isn't an unhappy consequence of life. On the contrary. Death is what makes life worth living. Men and women value only that which they might lose. Do you understand? Without death, life is uninteresting and utterly meaningless."
Philip didn't entirely understand what Mortimer was saying. And yet … maybe he did. "It's like what Lucifer said. Without evil there is no good. They're interconnected. The same is true for life and death?"
"Exactly!" Mortimer thrust out his arms. "Because without death there would be no joy in life—life itself will murder it! And that's not even the worst of it. How would the world look in just fifty years? Think about all those poor wretches who've been seriously injured but whose heart continues to beat. Victims of traffic accidents, of earthquakes, fires, floods. Terrible, terrible! The world would be populated by living corpses who wish for nothing more than the peace that comes with death. But their wishes would never be realized. Can you imagine that?"
Satina said nothing, but Philip had to swallow twice. He could imagine it. He could see it all too clearly, and he could feel the nausea burbling in his gut at the frightening scenario that Death had described to him.
"When you roll your die," Philip said, "what exactly happens?"
"That's an enormous question," Death said, gazing deeply into his eyes. "Can your mind handle the answer?"
"Try me."
"When the die is cast, the sand begins to run."
Philip glanced at Satina, who shook her head to show that she didn't understand either. "What do you mean?"
Mortimer slowly stepped toward him. Shadows covered his face like a black spider web. His eyes were concealed in darkness.
"Are you afraid, Philip?" he asked. His voice was dry as the fire crackling in the wood stove. "Are you afraid of death?"
Philip's first impulse was to nod. Because he was afraid of Death, afraid of this odd, ancient man who had been around since the origins of life, who had seen civilizations rise and fall, who had seen so many ghastly things that it had snuffed the light in his eyes. That's why Philip was a little surprised when he shook his head. "No. I'm not afraid. I'm already dead."
Mortimer seemed to consider this response carefully. Then he smile crookedly.
"Come along," he said. "I will show you something no human being has ever seen before."