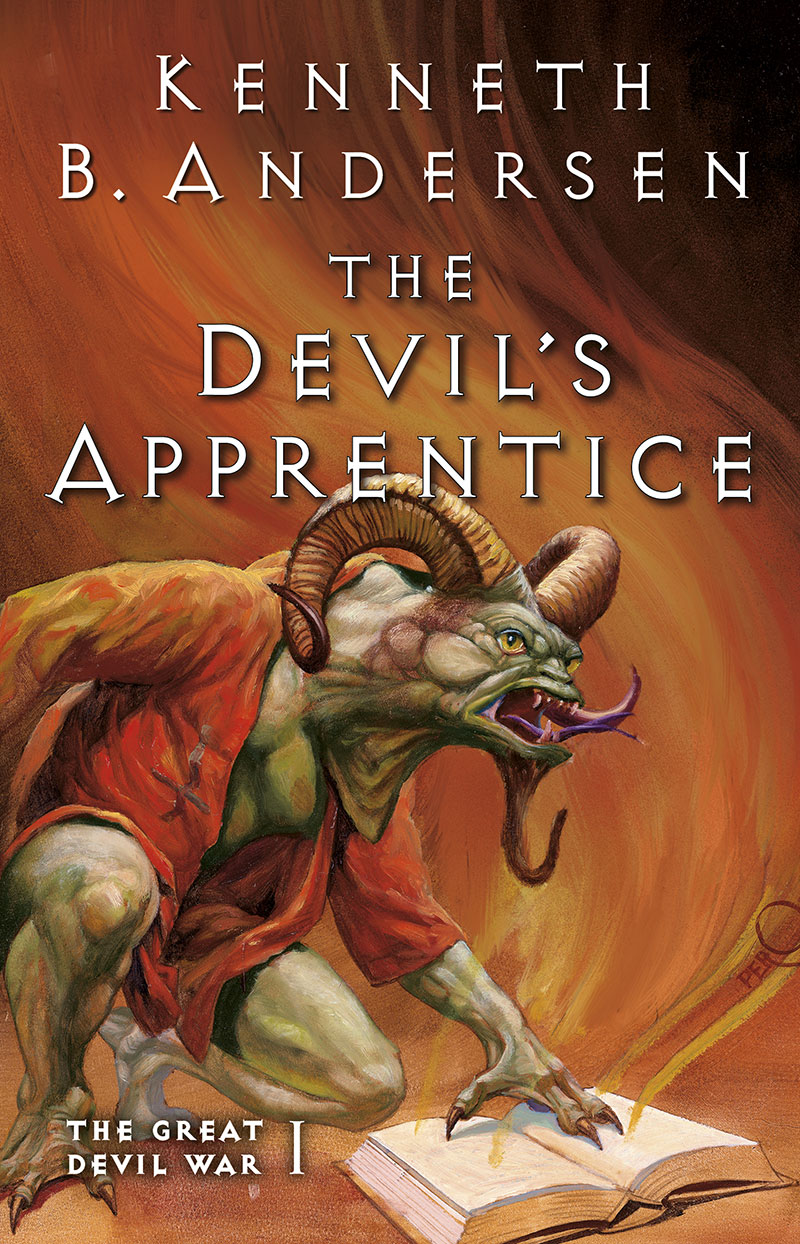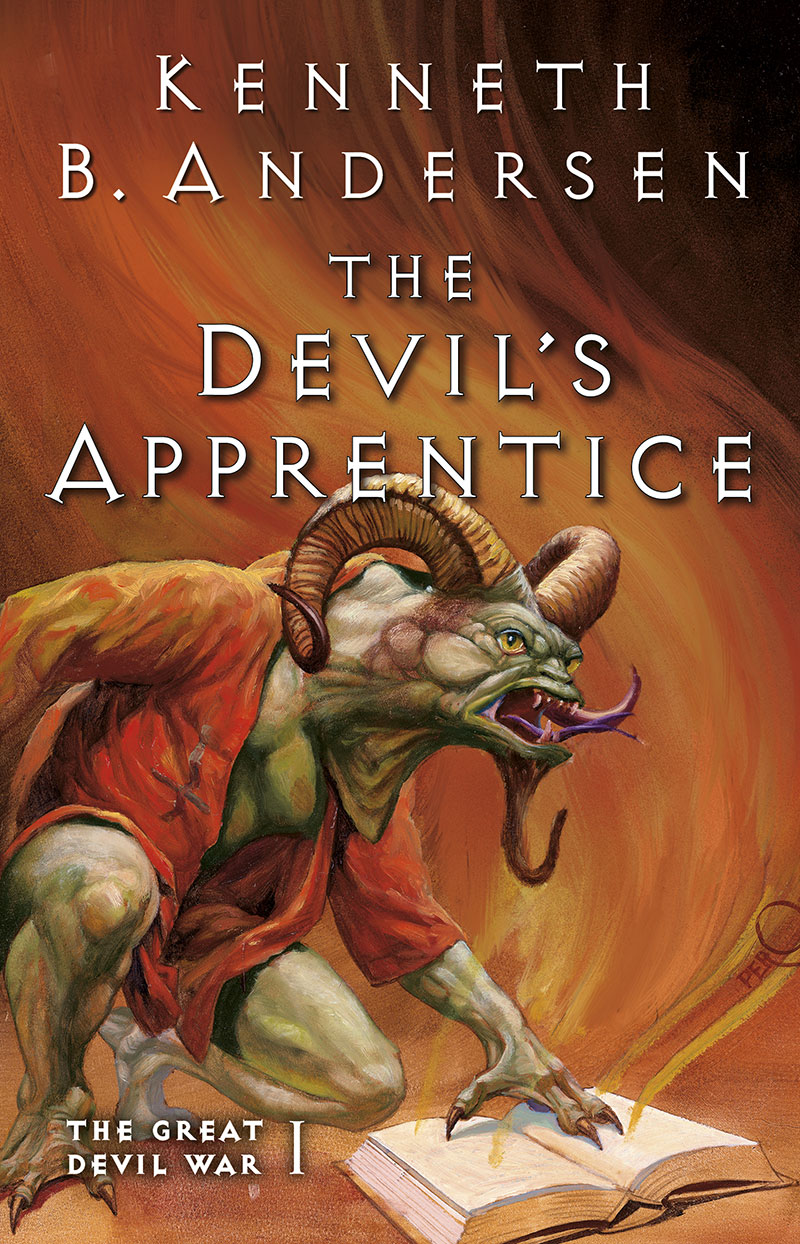 "Andersen's exceptional plotting ensures that its sequel will be irresistible. An enjoyably disturbing supernatural tale."
Kirkus Reviews
"Impressive world building through vivid imagery. The Devil's Apprentice reminded me of the Harry Potter series, as the plot is complex enough to satisfy teenagers and adults (of all ages) ... I found it highly compelling and raced through it."
"I LOVED this book! It was highly entertaining, fun, and incredibly creative! It's been ages since I enjoyed a Fantasy this much! From the very first paragraph, I was in it! Totally, and completely absorbed in this fantastical world." *****
"A fantastic story and great adventures await. I loved this book so much! It will make you giggle, make you wonder, and will leave you restless, page after page." *****
"Man, oh man, was this read refreshing! I had no idea just how entertaining this book was going to be. Very imaginative, creative, and well thought-out. Loved it from cover to cover. Definitely binge-worthy and a helluva read!" *****
"One of the most unique YA fantasy books I've read. Highly enjoyable, great world building, great characters, lots of questions and mystery." *****
"Full of well-developed characters that come alive on the page. The tone reminds me of Neil Gaiman's Good Omens." *****
"It was a riot. Humorous and engaging." *****
"A sensational, thrilling, and highly addictive novel." *****
"I absolutely loved this book. It's witty and forces you to realize that good and evil aren't always black and white absolutes. A delight to read for any age." *****
"This is a fun book...I recommend it to anybody who enjoys well-written YA books in the fantasy genre, who don't mind some creepy and dark elements and appreciate a good dose of dark humour." *****
"A great, funny, original YA fantasy that steps away from the tropes that seem to abound these days and dares to be a bit different." *****
"I LOVED, LOVED, LOVED, LOVED, LOVED this book! Emotions run high throughout the entire book, but overall it's a very humorous tale. Even in moments where my heart was pumping hard with fear, I found myself laughing out loud." *****
"A fast paced YA novel that will keep you on the edge of your seat with anticipation." *****
"Wow. Did this book ever have me thinking! It was ALL PARTS FANTASTIC!" *****
"Highly entertaining and belly laughing great in certain places!" *****
"Strong, descriptive, and evocative writing. The author did an astounding job of portraying and narrating vagaries of emotions and human nature. Beautiful!" *****
"This story, the plot and the world is magnificent. A fun and entertaining story full of action and important themes from friendship to morality. Perfect for younger YA audiences and adults alike, it is devilishly amusing and witty." *****
"This fantasy novel is a must for anyone. Mr. Andersen does a remarkable job of telling Philip's story. A true testament to the nature of good versus evil." *****
"I really enjoyed the book and I'm excited to read the rest in the series!" *****
"An original and very entertaining first installment. I can't wait to read the next in the series." *****
"A fabulous read! This is one of those books that needs to be read." *****
"Excellent. I recommend this devilishly good story to everyone!" *****
"I loved that the author took a place that has been associated with evil and made it into something somewhat normal and relatable." *****
"A heartwarming tale of a boy finding friends and allies in the most unlikely places and finding a deeper truth about himself." ****½
"Reading about the afterlife from a younger perspective truly makes this read a unique one and I can't recommend it highly enough." ****½
"I LOVE this book so much!!! Teenagers can read this book, as well as adults." ****½
"A fantasy novel perfect for a variety of ages. The Devil's Apprentice wasn't quite like anything I've read before. I was enthralled from start to finish." ****
"I loved how Hell came alive in all it's fiery glory. Highly imaginative and engaging." ****
"A funny, action-packed, immersive story full of amazing characters." ****
"A beautifully unique story, with a wonderful protagonist and incredible worldbuilding." ****
"Kenneth B. Andersen is a great spinner of tales. A rocking ride." ****
"Intriguing throughout. Andersen does a fabulous job of jumping right into the story, intricately weaving worldbuilding into the story itself. Reminded me of C. S. Lewis's Chronicles of Narnia, but less boring." ****
"I really admire how the author managed to create a gruesome realistic version of Hell and yet somehow take out some of the creepiness with humour." ****
"Such a fun and fast paced book. A solid adventure story [which] explores interesting topics of morality." ****
"It is so hard to find good fantasy books with humour these days and this one is just that." ****
"Surprisingly witty with some laugh out loud moments that manage to catch you out of the blue." ****
"Perfect for a kid who is looking for something interesting to read. A wonderful fantasy novel that has turned me on to the genre!" ****
"Entertaining and imaginative! If you are looking for a YA Dark Fantasy that is similar in tone to Sabriel by Garth Nix or Philip Pullmann's His Dark Materials, you should give The Devil's Apprentice a shot."
"Masterfully written, funny, and wonderfully imagined, this is a YA quite unlike any other. If you're in the mood for a Terry Pratchett-C. S. Lewis-Lucifer crossover, then welcome, friend. You're in for a real treat!"
"A fabulous book that delves into the thought provoking questions about Hell, good vs. bad and all the grey areas in between. To put it simply - I loved it!"
"A devilishly delightful read. This novel is for all. It's fun, exciting and with a smidgen of mystery makes it an enjoyable read."
"From the very first moment, I was sucked in! I was completely absorbed in this fantastical world, Kenneth B. Andersen created. Truly magical."
"I loved it. Seriously adored every second. The world-building was brilliant as it was detailed enough that you could imagine it but not too detailed as to take you away from the story."
"I inhaled The Devil's Apprentice in 24 hours and bloody Hell it was a cracker."
"Rich fantasy world building that is both imaginative and engaging. Descriptive details, along with snarky humor keep you captivated. The book is a page-turner."
"A perfectly written YA book. It's creative, imaginative, well thought-out, fast paced and beautifully written."
"Incredibly imaginative world building creating a hell like we have never seen before. I thoroughly enjoyed it. Bring on part 2!"
"From the first paragraph I was hooked in this story. The author does such a wonderful job of bringing these characters and this world to life. Great read!"
"Entertainment from page one to the end, where the reader is left to wonder what happens next."
"A great first book in a YA fantasy series. If you're looking for something fun and different, pick it up!"
"A good book to gift kids who will learn how good can have an influence on evil as well. I loved this read."
"I really enjoyed this story. It's very absorbing and I read it in one sitting. Excellent pacing and short chapters which is ideal for younger readers."
"Man, this was genuinely one of the most intriguing ideas I've come across."
"A clever fantasy tale of good and evil. A fun, entertaining read."
"An imaginative take on Hell and the Devil. Fresh and unique."
"Even with all of these great characters, I'd have to say that my favorite part was the detail that went into the writing."
"I really enjoyed it. It felt like a mashup between The Magisterium series and The Screwtape Letters. It was well-worded and montioned some pretty big concepts without assuming that younger readers wouldn't understand."
"A unique and one of a kind read!"
"This fantasy series is sure to delight. It will grab you on page one and leave you begging for more."
"One of the most imaginative reads. The world building is genius."
"The Devil's Apprentice blew my mind. I can't get over how much I loved this book!"
"A exciting journey and a unique story. I strongly recommend this author and his works."
"Loved it! Imagine if Tim Burton wrote Harry Potter." *****