Biography
I was born in Denmark on a dark and stormy night in November 1976 ...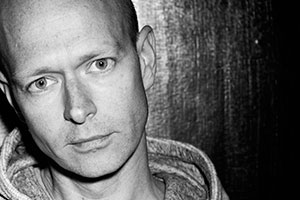 ... and I began writing when I was a teenager. My first book was a really awful horror novel titled Nidhug's Slaves. It didn't get published. Luckily.
During the next 7 years, I wrote nearly 20 novels--all of which were rejected--while working as a school teacher. The rest of the time I spent writing.
In 2000 I published my debut fantasy book, The Battle of Caïssa, and that's when things really took off. Since then I've published more than thirty-five books for children and young adults in genres ranging from fantasy to horror and science fiction.
My books have been translated into more than 15 languages and my series about the superhero Antboy has been adapted for film, which is available on Netflix. An animated tv series is currently in development.
A musical of The Devil's Apprentice opened in the fall 2018 and the movie rights for the series have also been optioned.
I live in Copenhagen with my wife, two boys, a dog named Milo and spiders in the basement.
About THE GREAT DEVIL WAR: The Great Devil War was published in Denmark from 2005-2016, beginning with The Devil's Apprentice.
Even though the story (mostly) takes place in Hell and deals with themes like evil, death and free will, it is also a humoristic tale about good and evil seen from a different perspective. A tale that hopefully will make the reader - young or old, boy or girl - laugh and think.
Welcome to the other side!
Rights inquiries: Jennifer Lyons at Jennifer Lyons Literary Agency.
2020
Antboy returns 1
Antboy returns 2
2019
Grimm II – Stories from the Brothers Grimm retold (with writer Benni Bødker)
Grimm – Stories from the Brothers Grimm retold (with writer Benni Bødker)
2018
The heart of light
The search for Santa's laughter
2017
Lights out
Monster Lilit
2016
The Fallen Devil - The Great Devil War VI
Black Out
2015
The Fallen Angel - The Great Devil War V
2014
Tempus Fugit
2013
The Death of Santa Claus
2012
From the Dark Side
Completely Wrong Number
Antboy 6 - Heros and Villains
2011
Antboy 5 - Slime, Snot and Super powers
Antboy 4 - Antboy Returns
2010
The Angel of Evil - The Great Devil War IV
2009
The Song of Death
The Wrongful Death - The Great Devil War III
2008
The Christmas Wish
It Hides in the Dark
2007
The Dice of Death - The Great Devil War II
Lasd Tjans
Antboy 3 - Let the Masks Fall
Antboy 2 – Operation Destiny
Antboy 1 – The Bite of the Ant
2006
Eternal Revenge
A Journey through the Night II
2005
The Devil's Apprentice - The Great Devil War I
The Hungry Painting
2004
The Lord of the Sky
2003
The White Men
2001
A Journey through the Night I
2000
The Battle of Caïssa 1
The Battle of Caïssa 2
The Battle of Caïssa 3