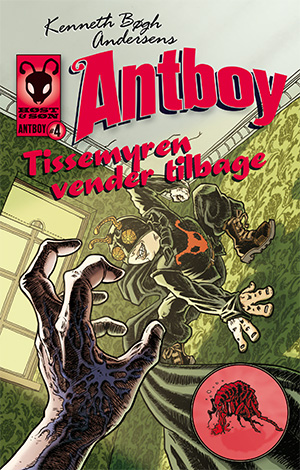 The burglaries turned out to be only the beginning.
During the course of the next few weeks there were numerous reports of petty thefts, robberies, vandalism, assaults, and scores of other crimes. The super villain Antboy was behind it all.
He ravaged the town like a virus, and no one understood what was happening—least of all me. In the beginning, the townspeople were convinced that it was an imposter. A charlatan who wanted to smear the superhero's reputation. But at the same time, the townspeople wondered why the real Antboy wasn't stopping the criminal.
Then witnesses began to come out of the woodwork, saying that Antboy wasthe one committing the crimes. One person even snapped a blurry photograph of the former superhero as he ran amok in the town square late one night, smashing gigantic flowerpots as if they were beach balls. In the photograph you could see Antboy picking up one of the pots, and even though the image was a little out of focus, there was no doubt. It was Antboy.
Or, more accurately—it was someone wearing an exact replica of his costume, because it wasn't an exact replica of me. The scoundrel was taller and skinnier. Besides, the authentic Antboy's arm was still in a cast, so I couldn't do anything about this evil-minded conspiracy. Not yet. Just like everyone else, I could only watch as the town grew more afraid of the former superhero day by day. And I have to admit that I too was a little scared when I saw the photograph of my alter ego ransacking the town square. Those pots he'd thrown around … They weren't small, ordinary flowerpots. They were so enormous that two grown men couldn't wrap their arms around them, and—according to the article—they weighed more than half a ton. That someone was pretending to be Antboy was one thing. But this … This shouldn't be possible. This shouldn't be happening.
But it was. I saw with my own eyes.
"He's got superpowers," I whispered.