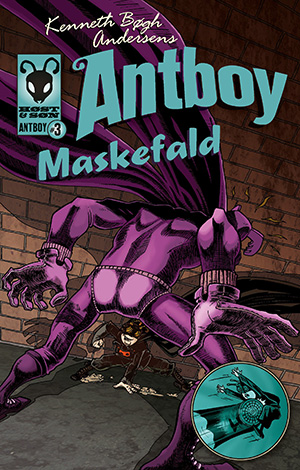 CHAPTER 3
Kidnapped!
It was a quarter to 10:00 p.m. when I went home. The sun had gone down and it was almost dark.
I put my hands in my pockets and touched my Antboy mask. I'd completely forgotten that I had it with me. And it really hadn't been necessary to bring it. Wilhelm had asked Pelle for help, not Antboy. In fact, I hadn't needed the mask for quite some time now.
Maybe I should think about quitting Antboy for a while and focus on Pelle Nerhmann instead. His life was wasn't very interesting these days, either. In school I spend the entire day dodging the Terror Twins, the schoolyard bullies, and when I got home, I put on my Antboy-suit and Pelle ceased to exist. That's how it felt sometimes—as if I were disappearing. Becoming nothing. Because who was Pelle, really? Was he Antboy? Or was Antboy Pelle Nerhmann?
Who was I?
My gloomy thoughts were suddenly interrupted by a horrific scream nearby.
All thoughts about me and Antboy vanished instantly. Someone was in trouble! Someone needed help! But I had to be quick. I'd promised to be home in five minutes.
While running in the direction of the scream, I removed the mask from my pocket. It wasn't easy to put on as I ran, and I ended up putting it on wrong. For a moment I couldn't see a thing and I collided with a street sign. It buckled as if it was made of clay. Shoot! This never happened to Spider-Man.
There was another scream. It was closer this time and took shape of a word: "Help! Hel…" Then the voice was cut off.
I turned the next corner and saw a dark figure running straight toward me.
At first I thought I couldn't see the person's face because it was too dark. Then I realized he was wearing a mask. He was carrying a girl—judging by the clothes, anyway. Because her face was hidden, too. It was covered by a bag that had been pulled down over her head. The girl, whose hands and feet were bound, writhed like a snake in his arms, but the man clutched her tight, holding her with one arm around her waist. His other hand was clapped over her mouth, plugging her screams. I'd stumbled into a genuine kidnapping!
When the masked man saw me, he froze and stared at me briefly. Then he turned and fled, a long black coat fluttering behind him. It almost looked like a cape.
It doesn't just look like a cape, I thought, dumbstruck. It is a cape. What in the world is going on?
"Stop!" I yelled, starting after him and raising swirls of dust as I sped down the street. I quickly gained on him. "Do you hear me? I said sto…"
I stopped. Blinked, confused.
The figure was gone. The street was empty.
But that was impossible! He'd been right in front of me. How could he just disappear like that?
But he hadn't disappeared, I realized a moment later.
The kidnapper was still in front of me. He was just farther away. As if a powerful blast of wind had instantly blown him forty yards down the street. What the …?
Well, no time to wonder about that now. I sprinted down the street so fast it set off a car alarm. Once more I gained on him. Only thirty yards separated us. Then twenty. Then …
Then he disappeared again. Just like that. One moment he was there, the next he wasn't.
"No!" I whispered. "It can't be!"
There was a loud bump to my left, and I spun around, startled. At first, I couldn't determine the source of the sound. Then I saw him. The kidnapper. He was standing on one of the rooftops that towered above the well-tended privet hedges.
I was totally confused. A moment earlier, he'd been right in front of me. How could he suddenly be standing on the roof of a house?
Then, as I was standing there staring at him, he bent forward and took a giant leap into the night. Like a shooting star, he disappeared into the darkness.
I was speechless, my thoughts doing cartwheels. I couldn't believe it.
The kidnapper had jumped. That's how he could disappear and reappear again farther down the street. He had jumped. He had jumped—I felt a cold, cold chill running down my spine: fifty yards! At least!
But that was impossible. Wasn't it?