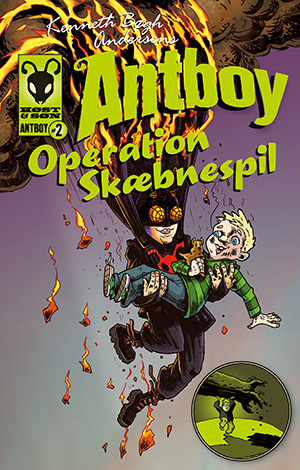 CHAPTER 18
Unmasked!
Wilhelm grabbed the remote control and turned up the volume. "Be quiet, the movie's starting."
It was 10:00 p.m., we were home alone, and they were showing a horror movie on TV. The Fly. It was about a scientist, who—in an ill-fated experiment—happened to mix genes with a regular house fly. In the beginning the man didn't realize that something had gone wrong. But then he started developing the most amazing powers.
"Man, that's just like you, Pelle!" Wilhelm said when the scientist demonstrated his incredible strength.
I smiled, folded my fingers around one of the legs of the coffee table, and lifted it up like a plate. "More candy?"
"Show off," he said.
Unfortunately, the scientist's changes didn't stop with a couple of newly acquired superpowers. He also started to transform physically: His nails came off, his hair fell out, and he began looking less and less like a man. He was actually becoming a fly.
At the same time, I was sitting in the sofa feeling sicker and sicker. I kept hearing Wilhelm saying: 'Man, that's just like you, Pelle!' and finally it became too much.
"No more," I said, when the scientist in another gross scene scratched his ear and it fell off with a sticky slurp. "Let's do something else."
"Ok," Wilhelm answered quickly. For the last fifteen minutes he'd been sitting with a pillow in front of his face. He snatched up the remote and turned off the TV. "It's a crappy movie anyway. It's not even scary."
"Do you want to play a game?" I asked, quickly shoving my hands in my pockets when I realized I was feeling for antennas on my forehead. Stupid movie.
"I don't think we have any games except for some jigsaw-puzzles."
It turned out that they didn't even have a jigsaw-puzzle so we decided to go to my place to get some games.
The streets were silent and empty in the cold darkness and Wilhelm agreed to a little race. He rode his bike, while I ran. Several times I had to stop and wait for him to catch up. Still, I won by a wide margin.
I was standing in the driveway with my arms in the air when Wilhelm came panting around the corner.
"That took you a while," I said.
"Well, it's unfair," he wheezed, climbing off his bike. "You're doped. But you haven't won yet because … the door's the finish line!" He sprinted up the driveway and I followed. I passed him, laughing. Then I stopped. The smile on my lips froze.
Wilhelm bumped into me, but I barely noticed it.
"Ouch, Pelle, my frigging nose! What are you doing?"
"The door," I whispered. "It's open."
And it was. Slightly. Black shadows starred out at us. I tiptoed closer and pushed the door open. Moonlight lit up the hall and I saw it immediately. The mud on the floor. Footprints.
We've been robbed, was my first thought, which was immediately replaced by a new and far more terrifying one: Maybe we are being robbed. Maybe … Maybe the burglar is still in there.
I stepped into the house, my heart racing.
"Pelle, do you think this is a good idea …" Wilhelm said. I turned quickly, a finger on my lips. His eyes were big and scared. I motioned for him to follow me. The footprints led into the kitchen. Wilhelm kept so close that he nearly stepped on my heels.
The house was dark and quiet. And yet, it wasn't as dark as it should be, I suddenly realized. In the kitchen I glanced up the stairs. Saw the mud on the steps. Saw the light shining through the trapdoor to the attic. The ladder was down.
The Anthill!
Not caring one bit about being cautious, I raced up the stairs and climbed the ladder to the attic.
I was met by a horrible stench. I didn't know what it was, but it felt like red-hot needles in my nose and eyes.
The attic was empty. But someone had been there.
Someone had riffled through the clothes on the coat rack and found my Antboy-suits. They were lying on the floor, almost as if they were posing. The intruder had also found my scrapbook. It was open to the story about how Antboy had saved a little girl who'd fallen through the ice last winter. Lying next to the book was the Antbelt.
"Someone knows," I whispered, staring at Wilhelm as he climbed up through the trapdoor. I was feeling dizzy. "Someone knows I'm Antboy."