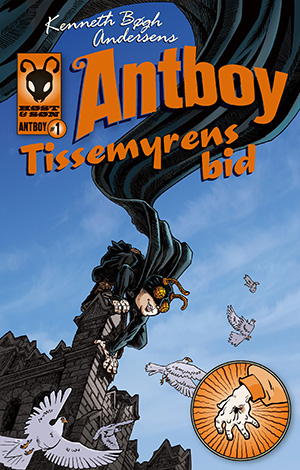 Chapter 6
Supercool!
The Hammer's real name was Gunnar Lund Hammer. He had a huge beard and was big as an ox. His chest was so broad that it looked like he'd swallowed a wine barrel. The Hammer was the school's Gym teacher. That's Gym teacher with a capital G. But The Hammer's favorite sport wasn't soccer, wrestling, or athletics. It was making-a-fool-of-Pelle-in-front-of-the-rest-of-the-class, and he was very good at it. The Hammer had never liked me, because I represented everything he despised: I was chubby, I hated sports, and I was extremely bad at them
I couldn't catch a ball to save my life, I couldn't swim ten yards without almost drowning, and the only thing I could hit with a tennis racket was my own knees.
I once joined a karate club, and that was certainly no success. None of the other kids wanted to practice with me, because they couldn't lift me. I don't even think I earned a white belt before I quit.
But back to The Hammer and his habit of humiliating me in front of the others. This Wednesday afternoon was no exception.
"Nerhmann, get over here and give us a little demonstration." That's what he always said when he wanted to show how something shouldn't be done. The other boys started to giggle. I hated myself for this morning's optimism. How could I've thought that this day would be any different? Why hadn't I accepted Mom's offer to let me skip gym when I had the chance?
I got up and stood inside the hula hoop on the floor.
"Is it big enough for you?" The Hammer asked, and the boys' giggles turned to laughter. He stepped into the other hula hoop and looked at me. He was smiling. Combat games was on today's program, and The Hammer had just explained the rules of the first game. You fought one on one. The person who managed to push his opponent out of the hula hoop was the winner.
"Do you understand the rules?" he asked.
I nodded.
"If Nerhmann understands the rules, then everybody understands the rules, right?"
"Right!" the boys yelled. This was also normal procedure.
"Good! Get ready." I set my palms against his and braced myself. Braced myself to get flung out of the ring with the speed of light. "1,2,3 fight!"
He put his back into it, I could feel it. Yet the pressure against my palms wasn't much stronger than a gentle breeze, and I had no trouble staying put. The Hammer stared at me and I could see the surprised What the…?-look in his eyes.
Behind me, the boys laughed even harder as they clapped, whistled, and cheered for The Hammer. They thought he was joking, that he was only pretending he was having trouble pushing me out of the hula hoop.
He pushed harder, and the breeze turned into a small storm. It didn't matter. I felt as if I was made of stone and didn't budge.
"Come on!" he snorted through clenched teeth. Sweat ran down his forehead as he snarled to himself: "Come on, push! Push! What's the matter with you?"
The cheering and laughter around us had suddenly abated, and I sensed the boys looking at each other. They were beginning to realize that The Hammer wasn't joking, that he actually couldn't push me out of the ring.
Through the mumbling voices around us, I suddenly heard someone whisper: "Come on, Pelle! You can do it!"
The Hammer's face was so red now that it looked as if he was going to explode. His eyes were bulging out of their sockets, and a big, fat vein throbbed in his forehead.
"Come on, damn it!" The Hammer roared, giving everything he had. "Push! PUSH!"
"Okay," I answered and pushed.
I didn't even push very hard. One moment The Hammer was standing in front of me, his entire face twisted up with exhaustion, the next he was rolling across the floor. He didn't stop until he crashed into the wall ten yards away.
The gym went quiet. All the boys were staring at me.
"What happened?" The Hammer mumbled, his eyes doing somersaults in his head. He had to cling to the wall to stand. He looked like he'd been plunked by a potted plant dropped from the 5th floor.
"Pelle won," somebody said softly.
"Rematch?" I asked, unable to help myself from smiling when The Hammer glared at me in shock.
"What did you say?" For a moment The Hammer just stared at me, paralyzed. Then a roaring fire of pure rage lit up his eyes, and he practically jumped back into the hula hoop, putting his palms against mine. "I'm gonna show you, you little …" he snarled. "1, 2, 3 fight!"
We fought. For about two seconds. Then I took half a step sideways as I made a quick sweeping motion with my arms. The Hammer, who'd used all his weight trying to push me out of the ring, flew past me, screaming.
"Look out!" the boys cried as 220 pounds of gym teacher came barrelling toward them. They leaped out of the way and, once again, The Hammer's little journey ended against the wall.
"Rematch?" I repeated when he turned his baffled eyes towards me.
"You moved!" he hissed, pointing an angry, trembling finger at me. He stomped towards me, towering above me like a mountain. But it felt like I was the one looking down at him.
"What's the matter with you, Nerdmann!" he bellowed. "What were you thinking, cheating like that! You said you understood the rules! You must be dumber than a brain-dead chicken!"
"You said we were allowed to mov…"
"Don't lie to me!" he roared. "Is this the thanks I get for letting you win the first round?" He pointed at the locker room. "Get out, you little cheat! Get out of my gym right now!"
I shrugged and began to go. Then I turned and said: "Better luck next time."
"OUUUUT!"